CONCRETE FLOORS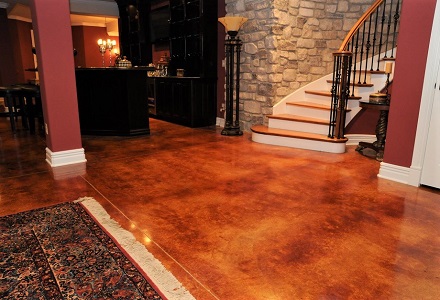 Be it indoors or out, concrete damage is quite devastating. It can even be more disconcerting if it is found indoors because it can be a safety hazard. Traditionally, interior floors are covered in wood, carpets, or tile, among others. It can be difficult to choose the ever-reliable concrete as an indoor floor material because it is really not an appealing one. If only this durable, low maintenance, and affordable material can be enhanced further to look absolutely stunning. Good news! It can.
Decorative concrete flooring is a set of solutions that aim to provide affordable alternatives to expensive flooring materials. Every home has a theme in every room and resurfacing or refinishing the floors can make everything match and complement each other. Business spaces can be enhanced further to entice new customers and keep new ones at a minimal investment.
Decorative Interior Floor Coatings and Overlays
While there are many high-end options available nowadays, coatings and overlays concrete can definitely compete with those at a more affordable cost. The topmost coating systems for interior floors include:
Stained Concrete – Staining is a popular method of coloring concrete floors. Acid and water-based stains are highly recommended because they penetrate the slab, creating long-lasting colors that do not chip off, flake, or fade. Both come in a variety of colors that can be mixed and match to acquire a more custom designed stained concrete floors.
Epoxy Flooring – Epoxy is great for use on garage floors because it is resistant to many damaging elements like impact, abrasion, scratches, tremendous weight, extreme temperatures, and more. As long as properly installed, a metallic epoxy floor stays put and intact for a long, long time.
Polyurea Polyaspartic Coating – This is a fast-drying coating that is highly recommended for industrial and commercial applications. Unlike epoxy, this is resistant to UV rays so it can be used outdoors or on interior floors that are often exposed to rays of sunshine.
Why settle for less? Get unique interior floors now. Call (816) 307-0325 for more info!
Nothing is more unsettling than ugly and damaged concrete floors. Concrete floor polishing contractor Kansas City is here to help. Kansas City Concrete Artisans has 20+ years of professional experience in interior concrete floor repair, refinishing and refinishing. We take pride in our work and we pay great attention to detail, making sure that we don't miss a spot.
Want a luxurious stone-like living room floor? How about a super tough and sturdy garage flooring? We got you covered. Call us for a free in-home visit today!
FAQ's
FEATURED PROJECT
We are ready to make that perfect concrete surface that will change your life forever