CONCRETE OVERLAYS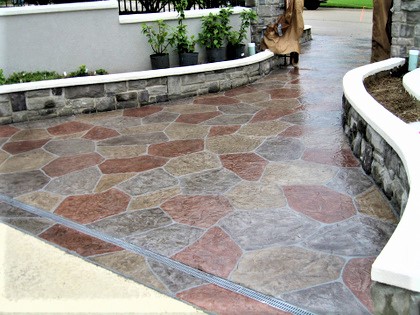 Sometimes, concrete damage is merely blemishes at the topmost layer of a slab. With this issue, it is easier and more affordable to just repair the slab than replacing the whole thing. You are probably thinking about concrete surface repair by sealing cracks and filling out holes and pits. These are still being done today but the process now involves more decorative options, like concrete overlays. An overlay is a thin layer of cementitious material that covers up blemishes, giving the slab a whole new surface, look, and improved function.
The thought of installing a thin overlay over a blemished concrete surface may seem unsettling for some people. "Thin" does not necessarily scream "durable". However, decorative concrete overlays are made with top quality materials that create tough and sturdy surfaces that last several years.
Popular and Efficient Decorative Concrete Overlays
A concrete slab can be restored or improved with an overlay. But if the damage is deep and extensive, a replacement would be a more appropriate solution. If the slab is repairable, here are the topmost concrete floor coatings and overlays that can be used on it:
Stamped Overlays – This overlay is popular for use on outdoor spaces because of the number of patterns it can be designed to look. The stamping is so efficient that it actually looks like the material it is being substituted for. Hand-staining can make natural stone patterns look more realistic.
Spray Knockdown Texture – This is popular for use on pool decks because it is slip-resistant and heat-reflective. The spray-down method and knocking down creates a texture that makes the surface slip-resistant, but still comfortable enough for bare feet. It reflects heat back so efficiently that the surface stays 30% cooler than other paving materials. The knockdown texture also helps create air pockets on the surface.
Epoxy Flooring – This is an ideal overlay for indoor concrete floors. Properly mixed and installed, the combination of an epoxy resin and polyamine hardener creates a super tough surface that is resistant to impact, abrasion, chemical spills, and more. Epoxy coating is popularly used in garages, basements, and commercial flooring.
Interested in decorative concrete overlays? Call (816) 307-0325 for a free consultation.
It has always been the mission of Kansas City Concrete Artisans to help customers acquire top quality services at economical rates. We provide solutions for repair, refinishing and resurfacing concrete in Kansas City, KS. We know how remodeling work can be stressful and we want to make it a more enjoyable experience for both residential and commercial customers.
If you are looking for a professional Kansas City decorative concrete resurfacing installer that cares about your ideas as much as you do, then call or email us. Let's schedule a discussion to find out if we are the right contractor for your project.
We are ready to make that perfect decorative concrete floors, and provide you the swimming pool deck repair you needed that will change your life forever.